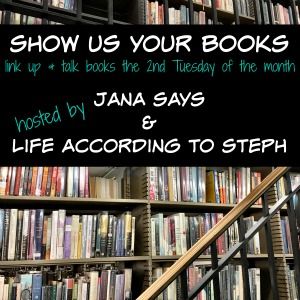 Jana
&
Steph
are bringing us book lovin' bloggers our favorite day of the month again - Show Us Your Books day! If there was ever a day to break away from the news and social media and throw myself into book talk, now is that time.
What I've read since our last link-up:
1.
Extreme Prey by John Sandford
(Lucas Davenport in the Prey series #26) - I have been reading this series since the beginning in the early '90s. Possibly some of you were not even born yet when I started my relationship with Lucas Davenport. He is smart and a badass, and I love him. After talking about collecting poetry books: "I'm pretty delicate," Lucas admitted. "You know, when I'm not beating somebody senseless."
I also love that this author has started a spin-off series with another detective (Virgil Flowers), so throughout this book, there is a sprinkling of "that fuckin' Flowers" comments, and that makes me happy. This particular story focuses on some
political nut jobs
who are potentially plotting an assassination attempt on a presidential candidate. There are very few authors that I am as loyal of a fangirl as John Sandford.
2.
The Killing Lessons by Saul Black
-
A messed up lead detective with a difficult past; mix that with an even more messed up lead killer with a far more disturbing past; that is this book. Plus more.
WARNING (spoilers ahead): if you are sensitive to the topic of miscarriage and/or abortion, you probably want to skip this book. 4/5
Hades by Candice Fox
- I read this book for the Aussie Author Challenge and
review it here
.
4.
Breakdown by Jonathan Kellerman
(Alex Delaware #31) - Yes, this is a book that is a part of a series, but I have no problem recommending it even if you've never read any previous book by this author. The relationship between Dr. Alex Delaware, practicing psychologist, and his best buddy Lt. Milo Sturgis, homicide detective, always entertains me enough for a good solid 4 star read.
5.
The Cartel by Don Winslow
- The sequel to The Power of the Dog - Think
The Godfather
; instead of The Mafia, it focuses on Mexican drug cartels. No, not
The Godfather
. That isn't violent or horrific enough. Think
The Sopranos
multiplied by 1000. And, to think, I've been to every border town that is featured: Juarez, Matamoros, Nuevo Laredo, and Tijuana. I think that made the book all the more intriguing. And frightening. Both of these books would make epic movies. I looked at the author's website, and guess what, they are in "pre-production" for movies. Excellent! 4.5/5
6.
The Royal We by Heather Cocks & Jessica Morgan
- After a string of books filled with senseless murders, it was time to switch things up. Plus, it was time to
Read My Books (for the challenge Dani & I are hosting)
. I guess this is chick lit, right? Well, this isn't the normal type of book that I'd pick up to read, but after seeing many-a-blogger sing its praises, I was intrigued. Thanks to
Kristen
(blogger buddies & unexpected gifts are awesome!) for ensuring I had my very own copy, this was sitting on my bookshelf waiting for me. It is delightful, and I'm happy that I stepped out of the box and read this little gem of a book. Is this a perfect book? No, but I gave it a five-star rating anyways for the enjoyment factor. 5/5
7.
Dumplin' by Julie Murphy
- A celebration of individuality, self-acceptance, growth, friendship, relationships, and love...sprinkle in some Dolly Parton...all set in small town Texas. For me, what's not to love? Finally, I can catch up on my
Armchair Librarians
podcast.
Book Challenge Reminders:
Currently Reading:
Running with Scissors by Augusten Burroughs (for #SCSBC16 & #readmybooks)