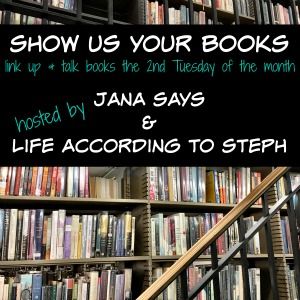 Jana
&
Steph
, those successful podcasters (I can't wait to say "I was an early listener, before they were such podcast celebrities) are still sharing their time with us to host our favorite link-up...Show Us Your Books! Oh, and that podcast I mentioned is The Armchair Librarians, and it can be found on iTunes (but, you probably already know that if you are reading this.)
1.
Resurrection Bay by Emma Viskic
- I recommend this one and wrote a
full review here
. 4.5/5
2.
Girl at War by Sara Novic
- This book was nominated for a
2015 Goodreads Choice Awards
in the debut authors category. Horrific events occur during war. Innocents are killed (not just soldiers). We know this, but no one really likes to talk about it or think about the impacts on society, individuals, and especially the children who witness such events. What Ana endures is an atrocity so ugly that I had to remind myself that this was a work of fiction. Sadly, I remembered that such events do indeed occur. At one point, I sat the book down and said a silent prayer of gratitude for not witnessing such evil events of wartime and genocide. This particular conflict occurred when I was a teenager and a young adult. I think that made it all the more tangible to me.
I don't mind open-ended endings, but this one felt a little abrupt. That is my only criticism. If you like historical fiction, I recommend this book. 4/5
3.
People of the Book by Geraldine Brooks
- Fascinating concept for a book that didn't work for me, but I'm in the minority. Read my longer
review here
.
4. & 5.
Paper Aeroplanes
and
Goose by Dawn O'Porter
- You know how some people will read a book by a pseudo celebrity just because they like the person? That's why I read these YA books. Dawn O'Porter is a Scottish journalist and documentary-maker that is adorable and intelligent. She is also married to the actor, Chris O'Dowd who is adorable and likeable as well.
I could sum up these book in a variety of ways: funny, quirky, sad, absurd, provocative, poignant, endearing, silly, triumphant, and even annoying. That pretty much describes most teenage girls too, which is what makes these books feel so authentic. I gobbled them up. But...I still felt something was missing. At times, it felt a little too simplistic, while other parts, it felt so whole. I don't know. Maybe I'm not making sense, much like a teenage girl.
6. Invisible by James Patterson & David Ellis - Judge me all you want. I still enjoy James Patterson (and collaborators) books. This one had an especially depraved bad guy. It's a stand-alone (not a series), so if you've never read a James Patterson book before, enjoy a fast-paced thriller, then go ahead and give this one a try. 4/5

7. All Fall Down by Jennifer Weiner - A little while ago, Jana shared a post of authors she'll never quit. Jana and I often feel similar about books we read, so I thought I'd need to give this author (who I'd never read before) a try. For most of the book, the main character is a pill addict in denial...so...my criticism of the book is that it annoyed me sometimes. But. It's pretty legit to make a pill-popping in-denial addict annoying. So, I don't know. I bounce around between loving the reality of the book and enjoying the main character to being annoyed with her and the book itself. 3.5/5

Hidden Bodies by Caroline Kepnes - I was one of the few that wasn't "wowed" by Joe and by You (this book's predecessor). I know, I know. Grumble, grumble. But, that didn't stop me from being interested enough to pick up this sequel.
Ok. Don't hate me. Or, if you don't want to hear my negative review, then move along (I'll never know). I feel like I could have an entire post dedicated all on its own to defend my reasoning for why I don't like this book, but let's just focus on the lead character.
I am in the minority, but I find Joe to be one of the most unlikeable characters I've read in a long time. The people that seem to really connect with these books think Joe is a fantastic character. I'm different. I'm alright with that. I do not find him charismatic, witty, charming, or humorous. Just irritating, ridiculous, and annoying. I will be a happier person if I never read another story about Joe Goldberg ever again. I don't care what happens. I don't care if he gets caught or stays in a relationship or moves somewhere else. Joe and I are through (which means, I may be a target of his. If I die, Joe did it.)
I should've set this book aside and not finished it. That's how much I disliked it. But...I fell to peer pressure. So many readers/bloggers realllllly like Joe and these books. Unfortunately, I'm not one of them.
I probably gave You 3*s because I felt the pressure to score it higher due to how many others enjoyed it. I probably gave this 1* out of anger.

Currently Reading: Extreme Prey by John Sandford

Don't forget!: Check out the Read My Books Challenge; it begins June 1st, and you could win some Amazon $$$ (to buy more books, of course.)