Steph
and
Jana
host a monthly link-up - a place for bloggers & readers to share what books they've read the previous month. I blog. I read. I've talked about the multiple book challenges I'm tackling. So, this link-up is a great way to share my thoughts on books I've read, keep track of my book challenges, and find (even more!) books to read that are shared by others. Plus, Jana put on the positive peer pressure. I cratered.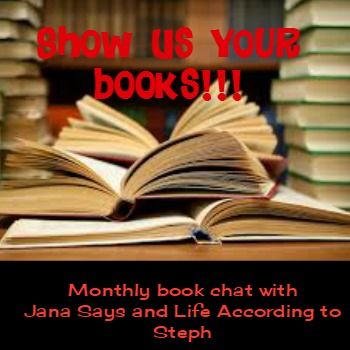 The Books I Read in January:
The Girl With All The Gifts by M.R. Carey
- In
Semi-Charmed Kind of Life's Winter Book Challenge
, we were asked to "read a book from a genre that you normally don't read". This book was on the goodreads 2014 reader's choice list in the 'Horror' category. I read a lot of different types of books including psycho thrillers with serial killers, but I don't usually go to the 'Horror' section.
If you like apocalyptic part horror, part science-fiction, part zombie-type people, this is the book for you. I don't regularly like horror, apocalyptic, sci-fi, or zombie-esh stories, but I was pleasantly surprised with how much I enjoyed this book. The lead character, Melanie, is fantastic. This is a great read IF this is your kinda thing or if you want to step outside your comfort zone. 4/5
Everybody Sees the Ants by A.S. King -
"Dark, funny, brilliant." - Ellen Hopkins, New York Times Bestselling Author. I totally, completely, absolutely agree. So many YA books are female points of view. This one is a mix of a 15 year old boy's reality and dream sequences, and it is a fantastic book. 4.5/5
The Elegance of the Hedgehog by Muriel Barbery
- In
Book Challenge by Erin
(yes, it's run by moi), I selected this book for "a book set in Europe". A friend recommended it a few months back, and it was time for me to read it.
There are people on goodreads that despise this book. Upon closer inspection, I think those people take themselves way too seriously.
I found this book to be charming and beautiful. It has been a long time that I've actually copied quotes from a book. I did that with this one. One quick example:
"What does Art do for us? It gives shape to our emotions..."

5/5
Eye Candy by R.L. Stine -
This book was also selected to fit in a book challenge categroy. It is authored by the same person as the "Goosebumps" series, written for an adult market. It was bad. The lead character is unlikeable. The writing is simplistic (just like this review is simplistic). Most of the characters are underdeveloped. 1/5
Cockroaches by Jo Nesbo -
This is the 2nd book from a series written by a Norwegian author that features a very flawed, but very bright Norwegian detective. I enjoy the series because the detective gets sent overseas when tragedy strikes a Norwegian citizen. The first was set in Sydney; this one was set in Bangkok. I imagine I'll end up reading the entire series. For crime/thriller readers, this is a good one. 4/5
Rocks: My Life In and Out of Aerosmith by Joe Perry with David Ritz -
I'm a rock music fan. I'm a rock biography reader. I'm a Joe Perry fan. This book did not disappoint. He blends the stories of youth, the music business, his music passion, family dynamics, stories of addiction, and the relationships with his band mates (especially the complex brotherly love/hate with Steven Tyler). I've read Steven Tyler's autobiography, and I think he is a brilliant frontman...but, I will always be Team Joe. 4.5/5
Veronika Decides to Die by Paulo Coelho -
I read this for the 2015 TBR Book Pile Challenge. I read two or three of this internationally famous author years ago, so I grabbed this book at a second hand bookstore, and it's been sitting on my shelf for a couple of years. Finally, thanks to the challenge encouraging us to read those books that are collecting dust, I read it. It was just okay...which was actually disappointing because Paulo Coelho has the capability to write some beautiful stuff. It felt he was trying too hard with this one. There were a few snippets of stories that I was moved by, but the overall book just fell a little flat for me. 2.5/5
I've shown you my books; you show me yours.............................