Hey, Hey, Hey! It's Show Us Your Books day! It's also my guy's birthday!

This guy:
Now, we got that outta the way. (Don't worry, he doesn't read my blog.) It's "Show Us Your Books" time! (
I'm pretty wordy this month........if you want to skim, just look at the ratings
.)
Books I've read since last link-up:
1.
Dancing With Myself by Billy Idol
- Most of you know that I'm a rock bio fanatic. I've read quite a few. I even have a
goodreads "shelf"
of them (if you're interested). I must admit. I had pre-conceived thoughts about Billy Idol's book. Yes, as expected, there are stories of sex, drugs, and rock 'n roll. What was unexpected is how insightful, articulate, and seemingly intelligent he is. He gives credit and lists many influences, so when David Bowie died as I was reading this, all of his nods of respect to David Bowie became so poignant and meaningful. (
This is what Billy had to say about David Bowie's death
)
4/5
Forgive Me, Leonard Peacock by Matthew Quick
-
I am on the fence with this book. Parts of this story frustrated and annoyed me, and I felt disconnected. Other parts were so sad, so real, and so heart-wrenching that I was engulfed with the story. 3/5
3. Rabbit-Proof Fence by Doris Pilkington/Nugi Garimara - I talk specifically about this post in this post. 3/5
4. The Silent Girls by Eric Rickstad - This book is a reason that I enjoy book challenges so much. I came up with this category for Book Challenge by Erin 4.0: to pick an author currently popular from Amazon's hot 100 that I'd
never read before. I had never even heard of Eric Rickstad, but the book sounded like one I might like. I thoroughly enjoyed the mystery, the characters, and how the storyline came together with some loose ends that left me wanting more. 4.5/5
Child of God by Cormac McCarthy
- My initial response when I closed this book: "
I need a shower after reading this book. McCarthy paints a disturbing picture of severe depravity. This is one effed up book." Cormac McCarthy gave us Lester Ballard in 1973. This demented soul, this backwoods murderer, this terrorizing necrophiliac, this guy is creepy beyond creepy...if this guy doesn't keep you up at night, I don't know who will.

4/5

(wasn't a perfect score, solely because the language of 1973 and the pace of 1973 took some time to get used to)
Beautiful Boy: A Father's Journey through His Son's Meth Addiction by David Sheff
- Last month, I read
Tweak: Growing Up on Methamphetamines by Nic Sheff
, and thought it was a harrowing, heartfelt book from a young drug addict. I knew I needed to read the companion book released by his father. So, I did. Maybe it's because I've read Tweak, so I know how much of the story unfolds, I wasn't as enthralled with this book. Maybe it's because I am not a parent. There are many gut-punching moments that I'm sure a parent of an addict experiences. I am a step-parent and could relate to the stepmother, but neither book is her voice. I can't put my finger on why this book didn't move me as much, but I do feel like I have an interesting insight reading both perspectives of the same occurrences. What I took from these books?
Meth is bad. Evil. Stay away from meth.
3.5/5
Guilt by Matt Nable
- Another Aussie Author Challenge book, and I discuss it
here
.
2/5
Same Kind of Different as Me by Ron Hall & Denver Moore with Lynn Vincent
- A memoir that is impossible for me to "review". Uplifting, heartbreaking, and thought-provoking.
Culturally and socially, this book is educational. Morally, this book is inspirational. Lessons of love, faith, forgiveness, change, philanthropy, and more.
5/5
Bare with me as I share a personal story...my dad's second wife, my step-mother, passed away from brain cancer in 2003. When her body was riddled with poisons and drugs and cancerous cells, she told us she believed in the power of prayer and became a believer that angels existed. When I questioned, she told me that she saw them, heard them, and felt them. There is a part of this book that made me SOB as a cancer sufferer tells her family she sees angels. I respected the honest (sometimes brutally, painfully honest) description of the pain and suffering of a terminal illness. It made the other parts of the story carry merit and truth...parts that a reader could assume were sensationalized or exaggerated. For any person of faith, read this book. For others, read this book.
Starting Tonight:
The Pearl that Broke Its Shell by Nadia Hashimi
On Deck:
Kill Your Friends by John Niven, This House of Grief by Helen Garner, Please Come Back from the Moon by Dean Bakopoulus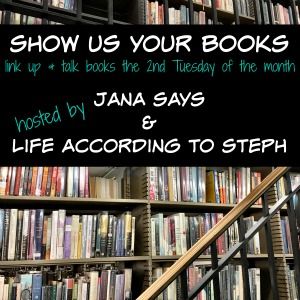 As always, thanks to
Jana
&
Steph
for hosting this fabulous community of book lovers.