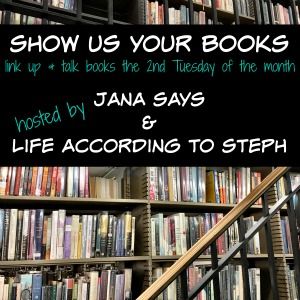 Jana
&
Steph
are doing it again...they are bringing us our favourite link-up...Show Us Your Books!
Last month
featured a lot of emotional, heavy books, so I thought I'd start this month with something a little lighter...a mob book! You know, filled with murders and betrayals. Super light reading, right?
1.
The Winter of Frankie Machine by Don Winslow
-
This is the 2nd book I've read by this author. The 1st one (The Power of the Dog) was about drug cartels, and this one centered around a retired mob hitman based in Southern California. I've decided that I need to read every book ever written by this author because I enjoyed both of the ones I've read that much. Also, I tweeted that sentiment, and the author favorited my tweet, so that makes me like him even more.
4.5/5
2.
Past the Shallows by Favel Parrett
- I really wanted to love this book, but I didn't. Meh. 2/5
3.
Alert by James Patterson & Michael Ledwidge
- Typical Patterson book. Quick, page-turner, needing to find out what/who/why NYC is being targeted with bomb and assassination plots. 3.5/5
4.
Out of the Easy by Ruta Sepetys
- Colorful characters, an intriguing story, and a depiction of seedy New Orleans in the 1950s come together for a delightful book.
Highly recommend
. 4.5/5
5.
The Ex by Alafair Burke
- This book was on one of those lists of highly anticipated thrillers of 2016. I wouldn't discourage anyone from reading it, I just don't think you need to run and grab it as soon as possible (like I did). 3.5/5
6.
What Alice Forgot by Liane Moriarty
- I read this book as part of the Aussie Author Challenge, and you can read my review of it
here
.
6.
Little Black Lies by Sharon Bolton
- It took me awhile to get into this one, and that is the only reason this wasn't a five-star thriller. Once I was hooked, I didn't want to stop reading. Twists galore for any thriller/mystery lovers. My first book completed for the
Around the World in 80 Books
challenge, set in the Falklands. The author's description of this island's community, wildlife, and geography made me feel like I got to know a small corner of the world a little better, and that was the reason I wanted to participate in this challenge.
Recommend.
4+/5
7.
Cross Justice by James Patterson
- The 23rd installment of the Alex Cross series. If you like this series, read this. Now. If you haven't read this series before, I'm doubting you'll start now.
For Alex Cross fans, 5/5.
8.
Me Before You by Jojo Moyes
-
I purchased this book at a secondhand bookstore almost two years ago. I'd heard so many things about it, I avoided reading it, worried the hype would spoil it for me. It didn't. I adored it. My heart burst with all kinds of emotions. Yes, it is predictable how this story is going to play out, but the ride getting there makes for a wonderful book.

Highly recommend.

5/5
9.
Memoirs of a Geisha by Arthur Golden
- This book is an example of why I participate in book challenges. It's been on my radar for years, but I had never picked it up to read...until a challenge encouraged me to do so. What a beautiful book about a fascinating (and sometimes disturbing) culture.
4/5
DNF: Me Talk Pretty One Day by David Sedaris - .
I hate saying this. I really do. Because I don't like to bash books. But, I quit this. It is a collection of short stories that has received a whole helluva a lot of high reviews, but I read the first three stories and really wasn't entertained by any of them. Too many books, too little time, to read something that doesn't entertain me or pique my interest. This group has actually helped me learn this lesson.
DON'T FORGET (if you haven't already) to take a look at the "Read My Books" challenge happening in June. It's a good one. Prizes are to be won!
I've shown you mine; now you show me yours!