A lot happened in the 70s. Some of it good, some of it bad, some of it in the middle. However, most notable is the fact that this is the decade in which Erin and I were both born! Yay for 70s babies! Granted I have approximately zero memories and I don't think Erin's are that clear but still. WE WERE THERE.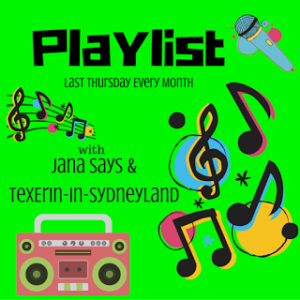 You know what else was there? Great music. The dawn of punk, the dawn of rap, the abomination of disco, the big sounds of arena rock and so much more. In fact, this was the most difficult playlist we've put together because we seriously didn't know where to stop. This is actually our biggest playlist at 39 songs (and that's with leaving off a lot) and we've linked to the whole list at the bottom, with our favorites highlighted below. Enjoy!
"Closer to the Heart"--Rush. As you all know, this is Jana's favorite band. Picking one song was a challenge but this one was selected specifically because of the poignancy and significance and relevance to the current state of politics in the US. (ex., "And the men who hold high places must be the ones who start. To mold a new reality. Closer to the heart.")
"Dream On"--Aerosmith. There are A LOT of 70s Aerosmith songs that I (Erin) love, but the quintessential song that still gives me goosebumps that still has a powerful message "Dream until your dreams come true" is this one.
"Prelude/Angry Young Man"--Billy Joel. Like Rush and Aerosmith, HOW DO YOU PICK JUST ONE?! Well, you pick one with his incredible piano playing that's also fun to sing along to and one you never, ever tire of hearing.
"Dance the Night Away"--Van Halen. Again, A LOT, because I'm (Erin) a DLR fan over Van Hager fan and this one started my love of "rock music that you can dance to".
"Who Are You?"--The Who. So, it's one of my parents' favorite stories to tell about me (Jana) and how I used to walk around at the age of 3 or 4 singing this song. Specifically, the "who? who?" part, like a fucking owl. Also fun to know is that they say "who the fuck are you" in the song so it's pretty evident where my love of that particular word comes from.
"Crazy on You"--Heart. Heart Those fucking Wilson sisters broke so many glass ceilings proving that women rock just as hard as men (we actually have a whole
badass women playlist
. The Wilson sisters are on it. Obviously).
"Bat Out of Hell"--Meatloaf. I (Jana) probably should have picked Paradise by the Dashboard Light because it's one of my all time favorite songs but this one is like the opening line from The Martian. It's unforgettable and makes a statement you never forget.
"Strutter"--KISS. So many Kiss songs are more well known, but I love this little gem of a song. Fun fact: my Paul Stanley doll was my (Erin) favorite doll as a kid for a while.
"Bohemian Rhapsody"--Queen. Arguably one of the greatest songs ever written. It is still original and unique 40+ years later. Fun fact: It's the only song that was a duplicate from both of our lists. Another fun fact: I (Jana) think of
Wayne's World
when I hear it. Every. Single. Time.
"Already Gone"--Eagles. I've (Erin) explained the significance before, but I'll say it again - after living in a turbulent relationship, getting married at 19 (with no business doing so), I packed up my white Honda Civic at the age of almost-21 and left that asshole. When I pulled out of the drive-way, I opened the sunroof, and this song started. Tears streamed down my face as I sang it at the top of my lungs. It is "my victory song".
"Horse with No Name"--America. My (Jana) victory song is not from the 70s but here's another embarrassing story about me instead. I called this the camel song for years. No real clue why. Just did.
"Hot Child in the City"--Nick Gilder. You know how some random memories from childhood are still so vivid? I (Erin) have a vivid memory of standing on my swing on our backyard swing set singing the song aloud for all the neighbors to hear. (
Jana's note: glad to know I wasn't the only weird ass child
).
"Good Hearted Woman"--Willie Nelson. He IS Texas to me (Erin)
Okay, so now that you have the highlights, here's the whole list. Let us know what songs from the 70s
you enjoy and we should add!