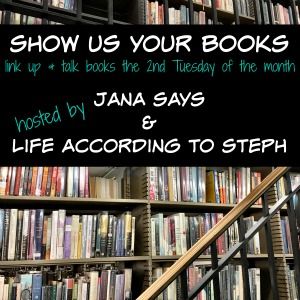 The dynamite duo of
Jana
&
Steph
host this fabulous link-up and have created a community of book lovers. Thanks friends! I had a pretty fantastic month of reading, so let's take a look...
Books I've read since last link-up:
1.
The Pearl that Broke Its Shell by Nadia Hashimi
-
If you've read Khaled Hosseini's books and found them fascinating and powerful, then add this to your "to read" list. A captivating book that is both emotional and educational about two generations of Afghan women who faced hardships including abuse (physical, sexual, verbal, emotional), loss, loneliness, abandonment, betrayal, and more. If you are like me, you'll read this book, then want to go save alllllll the girls of the world that are denied opportunities and treated as inferiors for being female. 5/5
2. Kill Your Friends by John Niven - The way that American Psycho by Bret Easton Ellis is darkly hilarious, this book and narrator (an A&R rep for a British record label) are very similar. I audibly laughed on many occasions. Filled with drugs, explicit sex (if you can't handle crass & crude descriptions of sexual acts, don't read this), women (and men) being objectified, curse words (if you can't handle a lot of C bombs, don't read this), racist and sexist remarks aplenty, greed, narcissism, and cynicism surrounding the world of music. Inappropriate to the maximum degree, this book is appalling, yet wonderful. Disturbing and disgusting, yet funny as hell. NOT for everyone, but I fucking loved it. 4.5/5
3.
This House of Grief by Helen Garner
- I read this for the Aussie Author Challenge, and I talk about the book in detail
here
. 2/5
4.
Please Don't Come Back from the Moon by Dean Bakopoulus
-
I really enjoy when certain aspects of a story are left open for personal interpretation. This book has that element and so much more. There are layers of lightness and darkness, and the storytelling is both easy, yet heavy. I have no idea how to adequately review this book expect to say I loved it. 5/5
5. Not My Father's Son by Alan Cumming - Several other people in my book challenge have read this and raved, so I had expectations of what was in store. Alan Cumming is an example of living a childhood with violence, fear, self-doubt, and self-loathing...yet he did not let his past define him or ruin him. He learned, grew, and came out a stronger, healthier person because of it. A really interesting memoir of the past and present. I need to look up his "Who Do You Think You Are?" episode... 4.5/5
6.
All the Bright Places by Jennifer Niven
-
There are so, so, soooo many things I love about this book - Violet & Finch, "wandering", the examination of one's inner voice and how powerful that can be, the feelings of that first real love, grief, mental illness, and more. But, there was one really important aspect of the book that bothered me, and it bothered me a lot. I can't tell you what because I don't want to give anything away. But, if you already read this book and want to chat about it, hit me up.
Currently reading:
The Winter of Frankie Machine by Don Winslow
On deck: Alert by James Patterson, Past the Shallows by Favel Parrett, Out of the Easy by Ruta Sepetys
Talk to me. Have you read any of these? Do you want to read any of them?