So, about a month ago
Erin
(that's me!) and
Jana
put together this crazy awesome playlist of hairband songs (WHAT?! You missed it? Well, you're in luck because
it's still available for your listening/reading pleasure
) and then we had the idea that we should do yet another crazy awesome playlist. Except this time we decided we'd take rock band covers of non-rock band songs. Think things like Train covering Aerosmith's "Dream On". DAMN. SO GOOD.
(Okay...Jana wrote the intro, and I have a strong, solid belief that no one should sing "Dream On" except Steven Tyler...so, now I will need to go listen to Train's version to see if my conviction still holds true.)
Also, you should listen to Pat Monahan singing "Love Me Two Times" with the surviving members of the Doors. Well, the ones who were surviving in 2009. I think at least another one is dead now. I'm digressing big time here, as a music fan does when discussing music but perhaps I should circle this back around to the main point of the post. Cover songs. That Erin and Jana picked for you to listen to and assembled into a handy list. Have at it and let your ears feast on these:
Mr. Big, "30 Days in the Hole" (originally by Humble Pie)
Disturbed, "The Sound of Silence" (originally by Simon and Garfunkel)
Social Distortion, "Ring of Fire" (orginally by Johnny Cash)
Guns N Roses, "Live and Let Die" (originally by Wings)
Halestorm, "Bad Romance" (orginally by Lady Gaga)
I Prevail, "Blank Space" (orginally by Taylor Swift)
Steel Panther, "Don't Stop Believin'" (originally by Journey)
Marilyn Mason, "Sweet Dreams Are Made of This" (originally by The Eurythmics)
Seether, "Careless Whisper" (originally by Wham!)
Van Halen, "You Really Got Me" (originally by The Kinks)
Metallica, "Turn the Page" (orginally by Bob Seger and The Silver Bullet Band)
Shinedown, "Simple Man" (originally by Lynyrd Skynyrd)
Breaking Benjamin, "Enjoy the Silence" (originally by Depeche Mode)
Fall Out Boy ft/ John Mayer, "Beat It" (originally by Michael Jackson)
To summarize: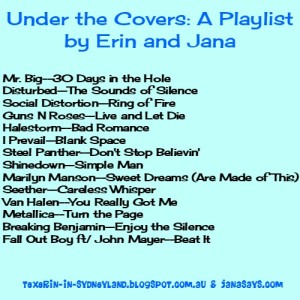 There were a TON of great covers we left off the list in the interest of space and time and not wanting to bore anyone. Honorable mentions: Darling Nikki by the Foo Fighters (originally Prince), Stay by Thirty Seconds to Mars (originally Rhianna), Blue Monday by Orgy (originally New Order), Your Mama Don't Dance by Poison (originally Loggins & Messina).
Let us know--what are some of your favorite cover songs?